---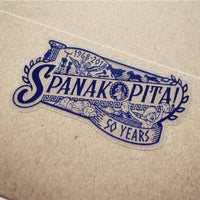 Celebrate the harvest all year long with these 3" clear vinyl stickers commemorating 50 years of the annual Spanakopita! Festival on the glorious island of Spanakos. 
Features images of all the festival's traditional competitions: Goat Racing, Sponge Diving, and Pumice Carving; as well as traditional Festival visitors, ancient drachma, and the Spanakopita crown of leaves. 
Features: 
• 3" of clear vinyl goodness
• Original art from Designpathology!
This design is available as wooden pins and magnets!