---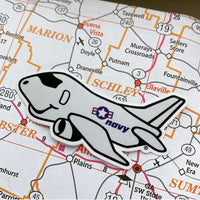 Meet "Poseidon", a friendly airplane on a mission of style! He's ready to train a new generation of aviators in the fine art of looking awesome.
These glossy stickers are a fun way to honor the handsome/beautiful, smart, hardworking and magnanimous pilots in your life. Styled after the Navy P-8 Aircraft, these delightful vinyl stickers are perfect for party favors, kids' activities or just lookin' cool with the guys.

Each sticker measures 3" x 1.5" and has a glossy finish.
These stickers will fly via USPS First Class mail. Please keep this delivery time in mind when ordering.
These images are © Designpathology and may not be reproduced in any form without permission.