---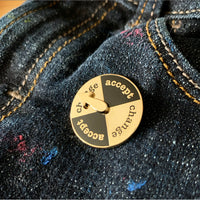 Can't decide? Spin the pin!
This 1" gold & black enameled lapel pin has a free-spinning arrow in the center. Ask the spinner a question and flick the arrow to discover your path!
Terrible relative? ACCEPT!
Dirty car? CHANGE!
Broken toe? ACCEPT!
Ridiculous pin? ACCEPT!
This pin is a Designpathology original - don't ACCEPT copies!